I try to get many flavors into the food I cook. Occasionally I use ingredients that may not be familiar to the every day home cook, and so I have compiled descriptions of some of these items here. Please note, while I would always recommend making purchases at your local independent cookware store, if you click on any of these links and choose to purchase from them, I get a tiny kickback – which only helps to run this site and continue giving you content! Good Karma!
Paderno World Cuisine A4982799 Tri-Blade Plastic Spiral Vegetable Slicer
 – have you seen the latest vegetable noodle craze? Zucchini noodle "zoodles" are excellent, and this machine helps you make vegetable noodles with all types of vegetables, perfect for healthy lunches.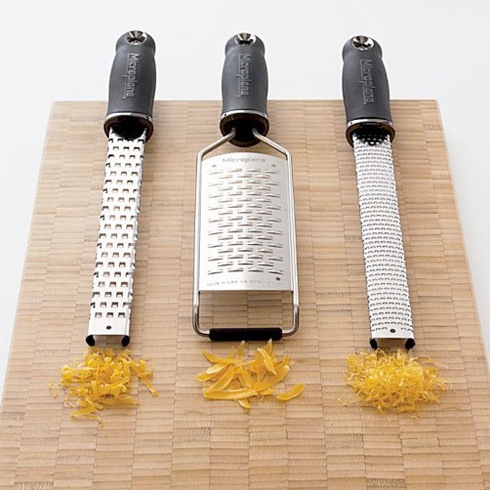 (Photo from Apartment Therapy!)
Microplane Zester: A microplane zester is an invaluable tool that allows you to grate anything you need with much more ease than a box grater. I use it for everything – Parmesan cheese, chocolate, garlic, ginger, or lemon zest to name a few. I lived for so many years without one of these, and they were dark years.
A Digital Scale: I can't express how important this one is. A good scale is an invaluable tool in the kitchen, but they don't have to be expensive! You want one that measures in both grams and ounces. For baking it is a necessity – it's the most precise way to cook. When you measure out flour in a measuring cup, the variation can be huge – but measuring by weight will give the precise amounts. It also allows you to easily cook from non US cookbooks without having to worry about conversions. It's also a great tool for people looking to relearn proper portion sizes – learning to judge how much food is in an ounce, etc. will help those looking to whittle their waist on target. For that matter, a good set of measuring spoons and measuring cups is also imperative!
A Really Sharp Knife: Good knives are invaluable to a kitchen goddess (or god, whichever you may be). I love my Kyocera Ceramic Knife, which I use for almost anything. I've had mine for three years without a chip, but if they do break, you can send them back to Kyocera for a free replacement. I'm also saving up for a more professional kit – I'm currently debating between Global knives and Shun, although willing to be swayed.
Pepper Mill and Salt Cellar right next to the stove: I have a cute one that looks like this in turquoise that allows me to add freshly ground pepper in any dish I'm making with ease. I also have a little jar from ikea which I've filled with Maldon salt, right there so I can grab some. Some good quality grey sea salt that is full of minerals is also an essential.
A set of Cutting Boards: I have a set of flexible plastic ones that I stick in the dishwasher on a regular basis. The flexible ones are great because you can roll them and accurately funnel your chopped foods into the pan without spilling things everywhere. A set that has different colors for chopping vegetables, poultry and meats is also particularly useful to help keep things sanitary in the kitchen and avoid cross contamination.
Dutch Oven: Mine is a 7.25 quart from Le Creuset. These can have a hefty price tag but are well worth the expense. The heavy bottomed, heavy lidded pots will last you a lifetime, and you can cook EVERYTHING in them – including on the stovetop and in the oven.
Stick Blender: I can not express how useful this little thing is. You can use it to puree soups in a whiz, right in the pot. You can make single serve smoothies, salad dressings that are emulsified. It's significantly easier to wash than a regular blender. You can get a good one for about 20 dollars, and a great one for about 50 dollars, complete with whisk and chopper attachments.

Mouli: This most wonderful alien creature is a Mouli, by moulinex. The mouli is something between a grater and a foodmill, and has different sized attachments that you can use to vary the size of your grate. You pop the food in, and turn the handle, that's it! Moulis are great for children, because unlike a grater, you don't actually have your hand near the sharp parts.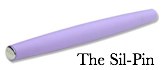 Sil-pin: The Sil-pin is a rolling pin covered in silicon, which helps your dough or ingredients to avoid sticking to the pin. I purchased mine from Sur La Table in this lovely shade of lavender. I have the "french rolling pin" which is slightly tapered atthe ends. It's first use was for rolling out the dough of home made ravioli, which was accomplished with relative success.
---